Forest School

Forest School at Topcliffe C of E Academy
At Topcliffe CofE Academy, we are just starting our Forest School journey, Forest School is delivered by a trained teacher and every child in school has the opportunity to partake every week.
Our Forest School is an inspirational programme which offers our children regular opportunities to appreciate the outdoors. We aim to teach our children to explore nature and to gain an understanding of our natural world, giving them first-hand experience in looking after our natural world. The Forest School ethos is holistic and aims to promote children's confidence, social skills, sense of self-worth and emotional well-being in an outdoors environment, this complements our school Christian values of compassion, trust, friendship and community.
Children are taught bushcraft skills, such as whittling, and are also encouraged to find things out for themselves through self-directed learning and play, for example games, stories, creative expression and sharing rules and inventions. Forest School activities might include den building, cutting firewood and fire building, crafts such as dream catchers, games, rope swings, flora and fauna identification, as well as stories and singing. These activities often complement teaching in the curriculum, but also serve as an enrichment to our children's depth and breadth of knowledge and skills.
Our Forest school sessions run in all weathers, we want our children to learn about seasons, about how to dress themselves to keep comfortable and dry. Our children learn to understand that there is no such thing as bad weather, only inappropriate clothing. We are also incredibly lucky to have our amazing forest cabin on site where we can shelter when it is really hot or really wet!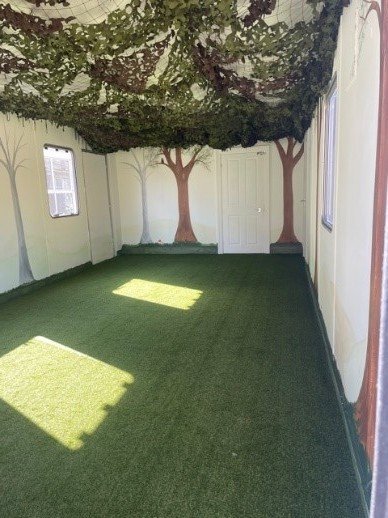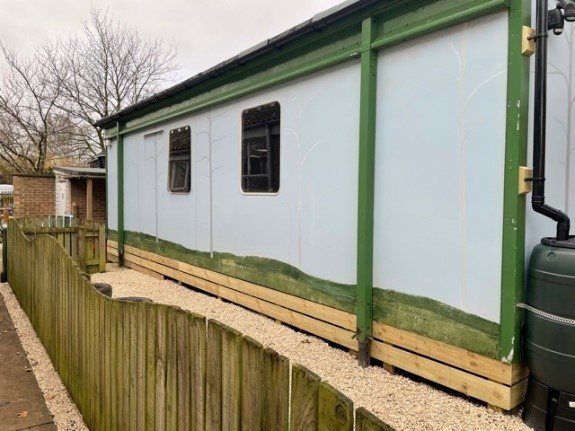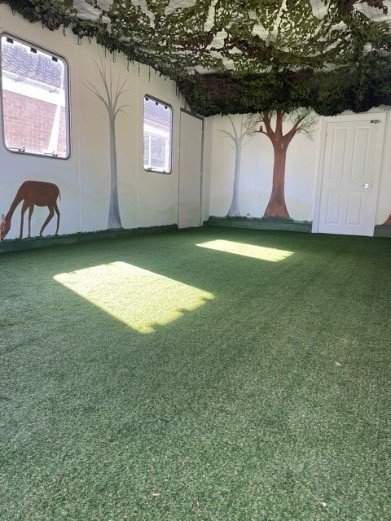 What does a Forest School session look like?
The children will be dressed appropriately for the weather. The children will explore their way down the field, use The Cabin, the sensory space or our fire pit area.
We will talk through the rules of Forest school, and remember the behaviours that the children will engage in to choose to be safe.
The children will play games to familiarise themselves with the outdoor setting.
Guided by the teacher, the group will learn some skills based on bushcraft, or linked to the wider curriculum and will then have the opportunity to put these in context, or build on them in weeks that follow.
The children will have time to explore, learn and play, or to work on skills they have developed in the skills sessions in their own line of play.
Some weeks we will have a fire, where we will have hot chocolate, smores or marshmallows (to name a few) whilst enjoying a story or chatting by the fire.
We are always looking for additional resources for our Forest School area, if you have any spare metal cutlery, spoons, ladles, pots and pans, guttering (full or halves) or logs/branches, please do speak with Mrs Costello.
We are always grateful for help from other adults, if you would like to get involved, or come and join in with a session, please get in touch with Mrs Hartley in the office.